When COMISS was created, it was decided that even though the various cognate groups gave distinguished service awards each year, there would be one international award representing the entire pastoral care movement. It was to be given to any person whose contributions had significantly advanced the international pastoral care movement.
The COMISS Medal is the highest award given by the Network on Ministry in Specialized Settings. The first recipient, in 1988, was Henri Nouwen, who received the award at Dialogue 88 in Minneapolis. The purpose of the medal is to recognize individuals who have made significant contributions to the international spiritual and pastoral care and counseling movement – to ministry in specialized settings.
Previous Recipients
George Fitchett – 2019
Wendy Cadge – 2018
Carrie Doehring – 2017
Kenneth I. Pargament – 2017
Walter J. Smith – 2012
Donald E. Capps – 2010
William A. Nelson – 2009
William C. Gaventa – 2008
Myron C. Madden – 2004
George C. Pickle – 2003
Henri Nouwen – 1994
Erik Erikson – 1988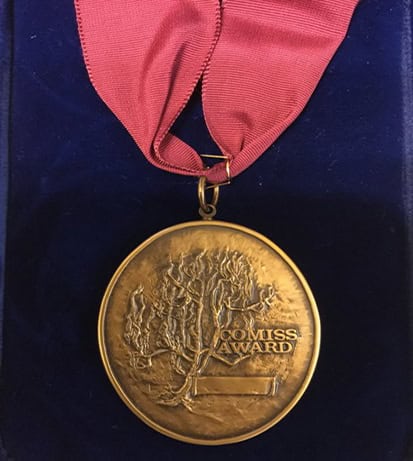 William R. Bradley, then Professor of Art at Pennsylvania State University, designed the medal.
The original casting was for 24 medals, at a cost of $500 each. The medal is held by a red ribbon, which was to hang from the recipient's neck like the Nobel Prize. He was chosen because of his reputation and his interest in translating the themes of pastoral care. The medallion was featured in a presentation at the Smithsonian where the artist created two other medallions in honor of air-space programs.